SUOYI Green Silicon Carbide Powder Silicon Carbide Green Powder
2023-05-19
The production method of green silicon carbide micro powder is basically the same as that of black silicon carbide, but the requirements for raw materials are different. Green silicon carbide is made from petroleum coke and high-quality silica as the main raw materials, adding salt as an additive, through high-temperature smelting in an electric resistance furnace. The refined crystal has high purity, high hardness, hardness between corundum and diamond, and mechanical strength is higher than corundum.
Application: Green silicon carbide, suitable for processing hard alloys, glass, ceramics, and non-metallic materials, as well as semiconductor materials, high-temperature silicon carbon rod heat exchangers, far-red exogenous substrates, etc.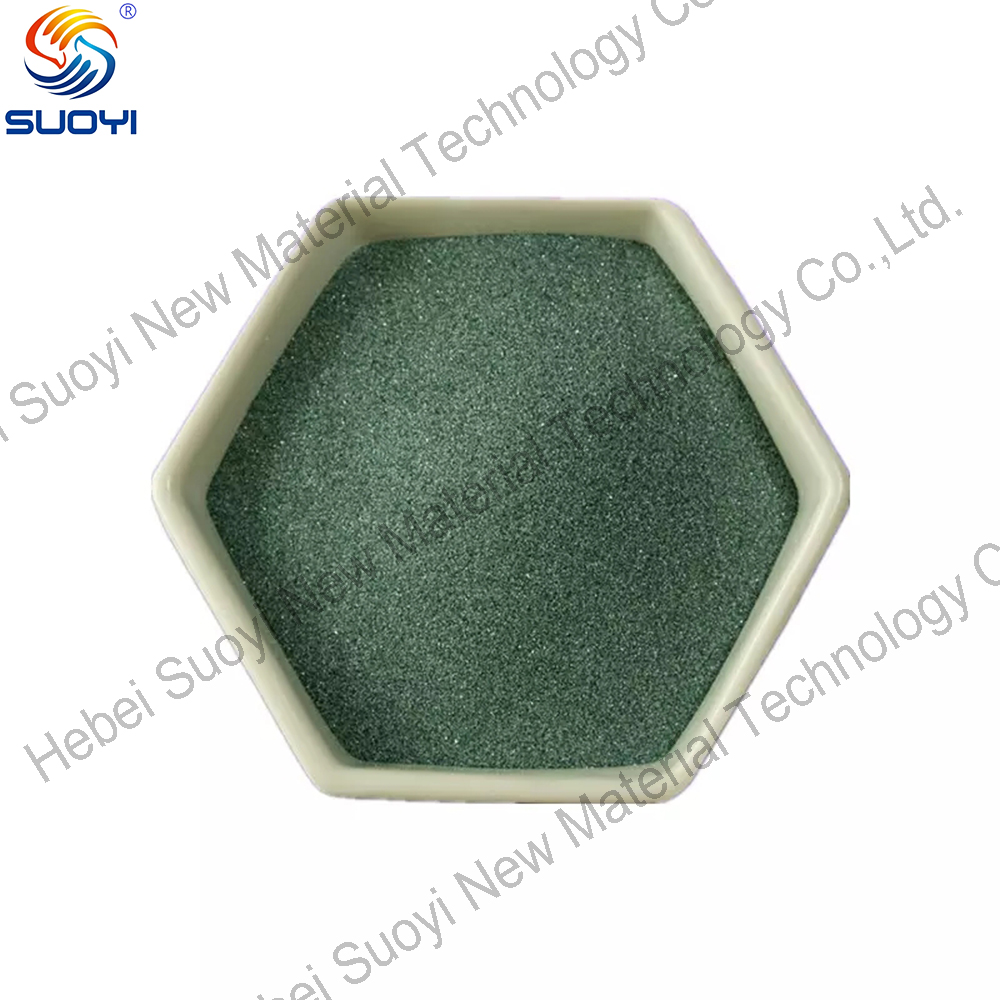 Production process:
The manufacturing method of green silicon carbide is the same as that of black silicon carbide, but the raw material used requires high purity and is also formed at a high temperature of around 2200 ° C in a resistance furnace. It is green, semi transparent, hexagonal in shape, and has a higher Sic content than black. Its physical properties are similar to black silicon carbide, but slightly more brittle than black, and also has good thermal conductivity and semiconductor properties.
Green silicon carbide α- SiC
Green silicon carbide contains more than 97% SiC and has good self-sharpening property. It is mostly used for machining cemented carbide, titanium alloy and optical glass, and also for honing cylinder liners and finishing high-speed steel tools. In addition, there is cubic silicon carbide, which is a yellow-green crystal made by a special process. The abrasive tool used to make it is suitable for ultra-precision machining of bearings, which can make the surface roughness from Ra32~0.16 microns to Ra0.04~0.02 microns at a time.
Advantages: Silicon carbide deoxidizer is a new type of strong composite deoxidizer, which replaces the traditional silicon powder and carbon powder for deoxidization. Compared with the original process, it has more stable physical and chemical properties, good deoxidization effect, short deoxidization time, energy saving, improving steelmaking efficiency, improving steel quality, reducing raw and auxiliary material consumption, reducing environmental pollution, improving labor conditions, and improving electric furnace energy and economic benefits.
Silicon carbide, also known as carborundum, is refined in a resistance furnace using quartz sand and tar as raw materials. It is widely used in high-tech refractory materials and is a more economical type. The silicon carbide produced in China is black and green.
Silicon carbide has stable chemical properties, high thermal conductivity, small coefficient of thermal expansion, and good wear resistance. Besides being used as abrasive, it has many uses:
1. Low grade silicon carbide (containing 85% silicon) is an excellent deoxidizer, which can speed up steelmaking, facilitate chemical composition control and improve steel quality.
2. Silicon carbide is also used to make silicon carbide rods for electric heating elements
Silicon carbide application (four major fields)
1. Functional ceramics
2. Refractory materials
3. Abrasive (used to make abrasive tools, grinding wheels, whetstones, sand tiles, etc.)
4. Metallurgical raw materials (deoxidizer and high-temperature resistant raw materials)