Suoyi Production silicon carbide powder Black silicon carbide contains about 98% SiC&has a metallic luster.
2023-05-18
SUOYI Silicon carbide (also known as carborundum, carborundum sand or refractory sand), chemical short form: SiC, is a kind of wear-resistant material made from quartz sand, petroleum coke (or coal coke) and wood chips by smelting in a resistance furnace at high temperature. Silicon carbide is made from high-quality quartz sand and petroleum coke in a resistance furnace and refined into silicon carbide blocks, which are crushed, acid and alkali washed, magnetic separation and screening or water separation to produce products of various particle sizes. Silicon carbide is widely used Our factory's industrial production of silicon carbide is divided into two types: black silicon carbide and green silicon carbide, both of which are hexagonal crystals with a specific gravity of 3.20-3.25, SiO2: 97-98%, Mohs hardness: 9.5, and Fe2O3: 0.02%.
Black silicon carbide contains about 98% SiC and has a metallic luster. Its toughness is higher than that of green silicon carbide. It is mostly used for processing materials with low tensile strength, such as glass, ceramics, stone, refractory materials, cast iron, and non-ferrous metals. It is mainly used for grinding cast iron and non-metallic materials. Green silicon carbide contains more than 98.5% SiC and has good self sharpening property. It is mostly used for machining cemented carbide, titanium alloy and optical glass, as well as honing cylinder liners and finishing high-speed steel cutters. In addition, there is cubic silicon carbide, which is a chartreuse crystal made by a special process. The abrasive tool used to make it is suitable for the ultra precision machining of bearings, which can make the surface roughness from Ra32~0.16 μ m to Ra0.04~0.02 μ m in one processing.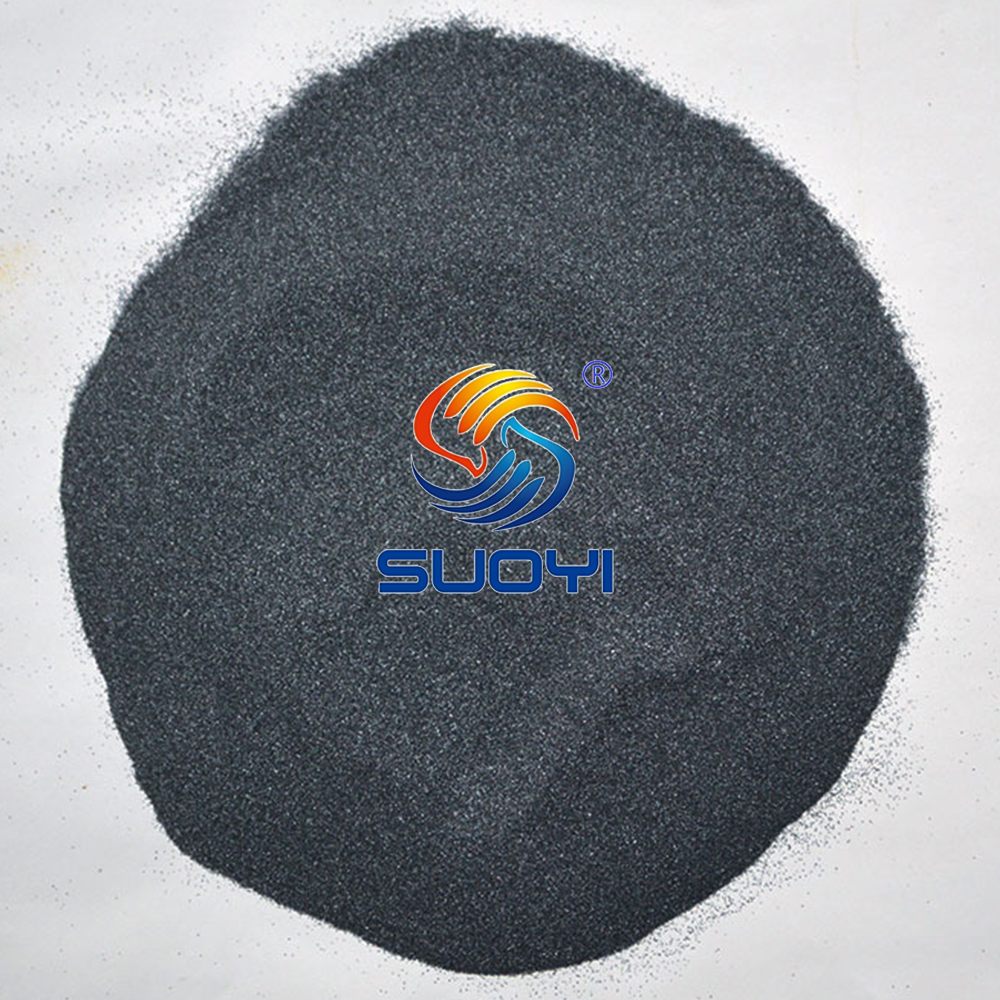 Silicon carbide usage
1:Abrasive, grinding, polishing, sandblasting, etc. (silicon carbide sand/silicon carbide particle size sand)
Silicon carbide is mainly used as an abrasive in the manufacturing of grinding wheels, sandpaper, abrasive belts, oilstones, grinding blocks, grinding heads, grinding paste, etc.
Silicon carbide can be used to manufacture bonded abrasives, coated abrasives, and free grinding to process glass, ceramics, stone, jade, cast iron, stainless steel, floor tiles, as well as certain non-ferrous metals, hard alloys, titanium alloys, high-speed steel props, and grinding wheels.
2:Refractory materials (silicon carbide powder, silicon carbide particles)
Silicon carbide, as an inorganic non-metallic material, has characteristics such as high temperature resistance and wear resistance. Silicon carbide products combined with silicon nitride can be used in areas such as blast furnace ceramic cups. In unburned bricks such as aluminum magnesium carbon bricks for steel cladding, silicon carbide can also be added as an antioxidant.
The refractory board made of silicon carbide has high compressive strength and long service life: low thermal capacity and low thermal conductivity; Non brittle material with good toughness; Accurate size and good flatness; Easy to cut and install, convenient for construction; Excellent wind erosion resistance; Continuous production, uniform fiber distribution, and stable performance; Excellent sound absorption and noise reduction performance.
3:Steel making and casting industries (silicon carbide balls, silicon carbide blocks, silicon carbide particles, and silicon carbide powder)
As deoxidizer for steelmaking, silicon carbide can stabilize the quality of molten steel, refine grains and remove impurities in molten steel. After use, the molten steel has high casting temperature, good billet quality and low Unit cost.
Silicon carbide can replace ferrosilicon and carburizing agents, and the amount of FeALSi used is also reduced, which can effectively reduce steelmaking costs.
4:Photovoltaic industry, polishing, grinding (silicon carbide micro powder)
Silicon carbide micropowder is mainly used in the manufacturing of refractory products, foam ceramic industry, solar silicon panel cutting, crystal cutting and grinding, automobile engine component manufacturing, special coating industry, plastic product modification, desulfurization, power supply, environmental protection industry, etc.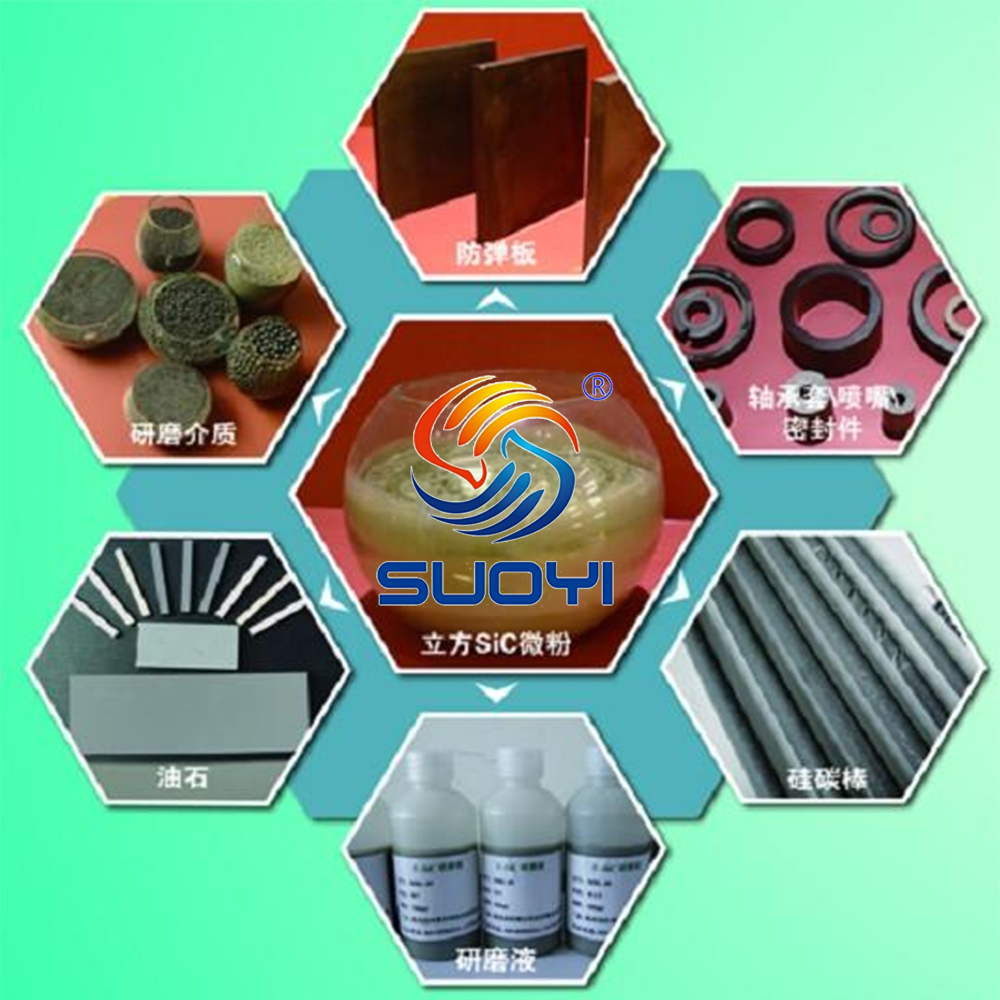 Commonly used particle size:
0-1 1-3 3-5mm 16 24 36 46 60 80 100 120 150 180 200 325 mesh
Packaging: 25KG double layer woven bag packaging, ton pack.