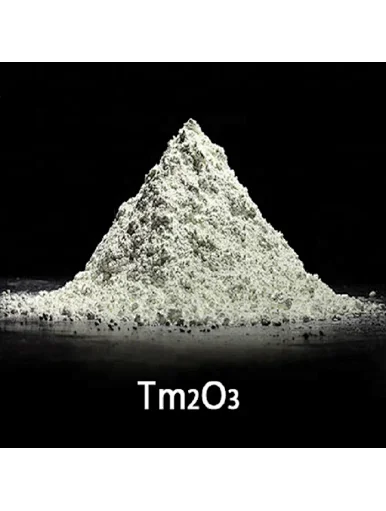 high purity thulium oxide of x-ray applications
price
USD200.00 - USD500.00
High purity thulium oxide of x-ray applications  
Thulium Oxide, also called Thulia, is the important dopant for silica-based fiber amplifiers, and also have specialized uses in ceramics, glass, phosphors, lasers. Because the wave length of Thulium-based lasers is very efficient for superficial ablation of tissue, with minimal coagulation depth in air or in water. This makes Thulium lasers attractive for laser-based surgery. It can also be used in portable X-ray devices  that has been bombarded in a nuclear reactor as a radiation source.
Thulium oxide (Tm2O3) is a pale green compound. Thulium oxide can be produced by burning thulium metal in air, or by decomposition of their oxo acid salts such as thulium nitrate. It is hygroscopic and absorbs water and carbon dioxide from the atmosphere. Due to the nature of Oxide compounds, Thulium oxide is not conductive to electricity. However, Thulium oxide has several applications in fuel cells and oxygen generation systems. 
Thulium Oxide
Formula: Tm2O3
CAS No.: 12036-44-1
Molecular Weight: 385.88
Density: 8.6 g/cm3
Melting point: 2341°C
Appearance: White powder
Solubility: Insoluble in water, moderately soluble in strong mineral acids
Stability: Slightly hygroscopic
Multilingual: ThuliumOxid, Oxyde De Thulium, Oxido Del Tulio
Specifications:                                                                                                                                                         
Relative Purity  
Min.%

99.99

99.9

TREO  
Min.%

99

99

RE Impurities/REO
Max.%

Y2O3

0.0010

0.0100

La2O3

0.0003

0.0050

CeO2

0.0003

0.0050

Pr6O11

0.0003

0.0050

Nd2O3

0.0003

0.0050

Sm2O3

0.0003

0.0050

Eu2O3

0.0003

0.0050

Gd2O3

0.0003

0.0050

Tb4O7

0.0003

0.0050

Dy2O3

0.0003

0.0050

Ho2O3

0.0003

0.0100

Er2O3

0.0010

0.0100

Yb2O3

0.0040

0.0500

Lu2O3

0.0003

0.0100

Non-RE Impurities
Max.%

Fe2O3

0.0025

0.0050

SiO2

0.0050

0.0200

CaO

0.0015

0.0100

Cl

0.0300

0.0500

L.O.I      Max.%

1

1
Packaging & Delivery                                                                                                                                              
1kg to 20kg We also provide the DHL,FEDEX,TNT Courier Service for you!
| | |
| --- | --- |
| | 50KG/DRUM |
| Delivery: | |
| Delivery port: | China main port |
| Lead Time: | Within 15 days after confirmation. |
Application:                                                                                                                                                            


·        Used in x-ray applications for blue and ultraviolet emissions.
·        Used to make thulium metal.
FAQ:­­­­                                                                                                                                                                        
How Can We Trust Hebei Suoyi Company?
1. Our products are targeted for the overseas demanding market, and we have a strong sense of responsibility for the quality, we consider quality as our life.
2. We carry on periodic training to our staffs, in order to enhance their consciousness of quality.
3. Each batch of products will be strictly inspected before packing and shipping out.to insure that they could be satisfied with you.
4. We always try to improve the quality of our products, meanwhile we pay much attention to our customer service.
5. Nano Rare earth oxide are available, we can send you sample first.
Contact information:                                                                                                                                              
Contact Person : Sophie Bai
Tel: 86-17733015922
Wechat: 17733015922
QQ: 2106586156
Email:sales603(at)hbsuoyi.com
Welcome to send inquiry to us. Wishes to joint development with you!