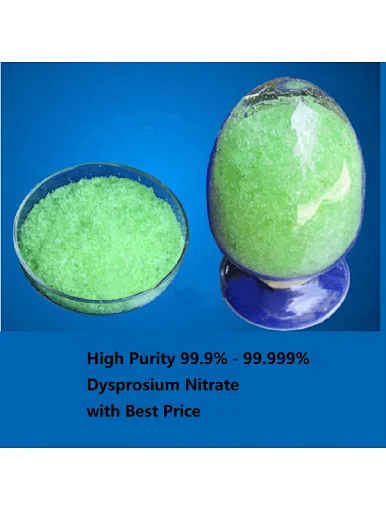 Dy(NO3)3.5H2O dysprosium nitrate with low price
price
USD100.00 - USD300.00
Dy(NO3)3.5H2O dysprosium nitrate with low price
Hebei Suoyi  is a trusted supplier of Dysprosium Nitrate and a wide range of high purity rare earth chemicals.
Brief information:
Product Name: Dysprosium Nitrate
Formula: Dy(NO3)3.5H2O
CAS No.: 10031-49-9
Molecular Weight: 438.52
Appearance: Light yellow crystalline
Solubility: Soluble in strong mineral acids
Stability: Slightly hygroscopic
Multilingual: Dysprosium Nitrat, Nitrate De Dysprosium, Nitrato Del Disprosio
Specifications:
Product Code

4N

3N

2N

Grade

Dy2O3 /TREO (% min.)

99.99

99.9

99

TREO (% min.)

39

39

39

Rare Earth Impurities

ppm max.

% max.

% max.

Gd2O3/TREO
Tb4O7/TREO
Ho2O3/TREO
Er2O3/TREO
Tm2O3/TREO
Yb2O3/TREO
Lu2O3/TREO
Y2O3/TREO

20
20
100
20
20
20
20
20

0.005
0.03
0.05
0.05
0.005
0.005
0.01
0.005

0.05
0.2
0.5
0.3
0.5
0.3
0.3
0.05
Application of Dysprosium Nitrate:
Dysprosium Nitrate has specialized uses in ceramics, glass, phosphors, lasers and Dysprosium Metal halide lamp.
High purity of Dysprosium Nitrate is used in electronics industry as an antireflection coating in photoelectric devices.
 Dysprosium is used in conjunction with Vanadium and other elements, in making laser materials and commercial lighting.
 Dysprosium and its compounds are highly susceptible to magnetization, they are employed in various data-storage applications, such as in hard disks.
It is also used in dosimeters for measuring ionizing radiation.
Contact Information: