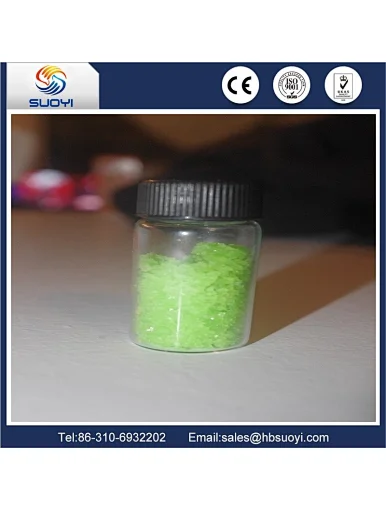 High purity price of Praseodymium nitrate Pr(NO3)3
price
USD20.00 - USD100.00
Tianjin port or Any Chinese port
Shipped in 7-15 days after paymentDay
High purity price of  Praseodymium nitrate Pr(NO3)3
Grade

5N

4N

3N

2N

CHEMICAL COMPOSITION

 

 

 

 

Pr6O11/TREO (% min.)

99.999

99.99

99.9

99

TREO (% min.)

38

38

38

38

Rare Earth Impurities

% max.

% max.

% max.

% max.

La2O3/TREO
CeO2/TREO
Nd2O3/TREO
Sm2O3/TREO
Eu2O3/TREO
Gd2O3/TREO
Y2O3/TREO

0.0005
0.0005
0.001
0.0001
0.0001
0.0001
0.0005

0.005
0.005
0.01
0.001
0.001
0.001
0.005

0.03
0.03
0.1
0.01
0.01
0.01
0.01

0.05
0.05
0.7
0.01
0.01
0.01
0.01

Non-Rare Earth Impurities

% max.

% max.

% max.

% max.

Fe2O3
SiO2
CaO
Cl- 
CdO
PbO

0.0005
0.005
0.01
0.01
0.0005
0.001

0.001
0.01
0.01
0.01
0.0005
0.001

0.003
0.02
0.01
0.02 

0.005
0.03
0.02
0.03
Application:
Mainly used for the manufacture of ternary catalysts, ceramic pigment, magnetic materials, intermediates of Pr compounds, chemical reagents, etc..
Hebei Suoyi Chemicals Import and Export Co., Ltd..
• Prices:we can quote best price due to we have factory.
• Quality:Products certificated with CNAS,CMA,SGS etc.
• Service:Strong R&D team and qualified engineers,good sales and after-sales departments to meet any customized requirements.
• Production capacity:Advanced production equipments with more than 300 workers to meet any ordered you make!
• Our outside market:USA,Argentina,Colombia,Brazil,Turkey,Spain, Russia,Singapore,Korea,Japan etc(Also cooperation with famours international groups:LG Group,Torrecid Group,3M,Yuber Group, Samsung Group and so on)
• Cooperation concept:Quality first,credit principal,reasonable price,customer uppermost
 Our certificate
 Flow chart of goods dispatch