Product name:Yttria Stabilized Zirconia
Color:White Power
Usage:Ceramics, artificial gem, grinding, polishing
Melting point:2700
Particle Size / Mesh:Can be customized
Sample:Availiable
Molecular Weight:123.22
HS Code:2615100000
MOQ:1kg
Boiling Point:5000
Classification:Zirconia
Grade Standard:Industrial Grade
Place of Origin:CN;HEB
CAS No.:64417-98-7
Other Names:Yttria Stabilized Zirconia
MF:ZrO2
EINECS No.:264-885-7
Purity:995%
Appearance:White Powder
Application:Industry
Brand Name:SUOYI
Model Number:Zirconia
SuoYi Yttria Stabilized Zirconia Powder for Oxygen Sensor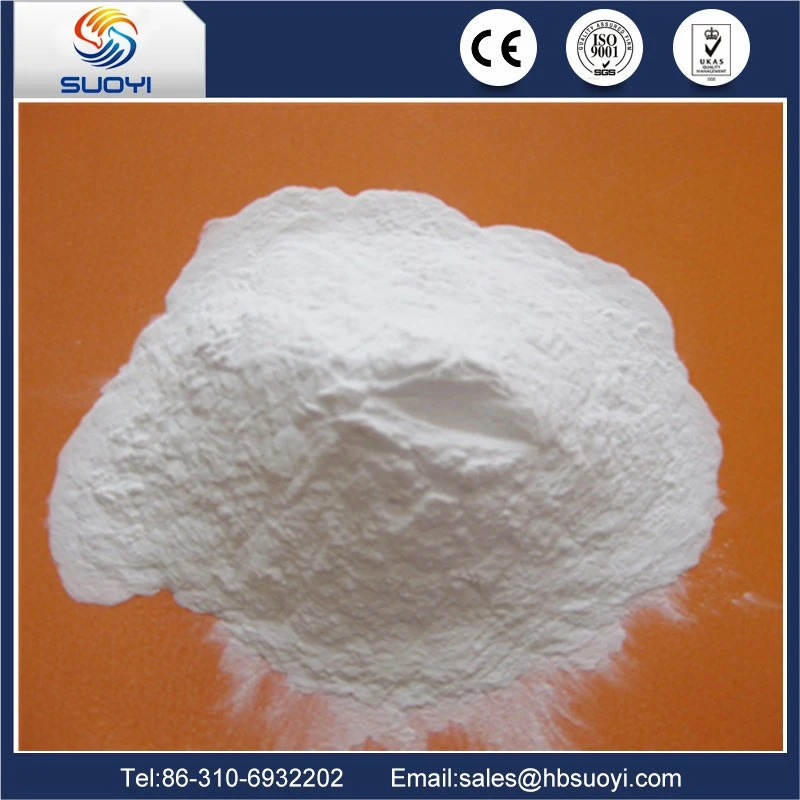 Properit properties Type

3YF

3YP

3YZ

3YP-E

 3YZ-E

ZrO2(HfO2)%

94.7

94.7

 94.7

94.7

94.7

Y2O3% 

5.2+/-0.1

5.2+/-0.1

5.2+/-0.1

5.2+/-0.1

5.2+/-0.1

SiO2% ≤

0.005

0.005

0.005

0.25

0.25

Fe2O3% ≤

 0.003

0.003

0.003

0.003

0.003

CaO%≤

0.002

0.002

0.002

0.002

0.002

MgO≤

0.003

0.003

0.003

0.003

0.003

TiO2≤

0.001

0.001

0.001

0.001

0.001

Na2O≤

0.001

0.001

0.001

0.001

0.001

Cl≤

0.1

0.1

0.1

0.1

0.1

Lgnition%≤

0.2

0.2

2.0

0.2

2.0

Binder%

0

0

1.0

0

1.0

Sintering Temperature

1500

1500

1500

1370

1370

Sintered Density

6.05

6.05

6.05

6.05

6.05

Three-point Flexural strength(Mpa)

1000

1000

1000

1000

1000

Specific Surface Area(m²/g)

10+/-1

10+/-1

10+/-1

10+/-1

10+/-1

Crystallite Size(nm)

40-80

40-80

40-80

40-80

40-80

Volume

Distribution

Dmaxμm

3

0.5+/-0.1

 

3

0.5+/-0.1

3

0.5+/-0.1

3

0.5+/-0.1

3

0.5+/-0.1

Dmin μm

Used for electronic ceramics, structural or biological ceraics, advance refractory material, ceramic pigment or glaze, artificial gem, grinding and polishing, etc.
Features:
1. Small particle diameter, narrow distribution range, activity, stable.
2. Excellent liquidity and compactness, easy to mould and sinter.
3. BET and Particle Size of airflow or granulation one can be controlled on customers' request. 

Hebei Suoyi Import and Export Trade Co., Ltd. is independent corporate enterpriseof Hong Kong Dragon International Group Co., Ltd in mainland(China),and under the Hong Kong Dragon with Yantai Chengxing Minerals Co.,Ltd. Our company is integrated chemical enterprises which focus on inorganic chemical research, development, production and sales.
We are mainly for domestic medium and large-scale enterprices producing a variety of quality products.And made the import and export rights.Our products also sales in Europe, Asia, Africa and all over the world.We have long-term relationship with South Korea and Japan which are as well-known enterprises.The Group exports above 90% every year.
Our company have staff more than 300,including 50 skilled workers,and equipments more than 50 sets. Professional equipment ,advanced technology, perfect teamwork guidance, and mature trading system,so that we can provide the best service and quality assurance in the pre and after-sales.
Main products: Rare Earth Oxide, Rare Earth Fluoride; Aluminum series, Zirconium Series.

• Prices: we can quote best price due to we have factory.
• Quality: Products certificated with CNAS,CMA,SGS etc.
• Service: Strong R&D team and qualified engineers,good sales and after-sales departments to meet any customized requirements.
• Production capacity: Advanced production equipments with more than 300 workers to meet any ordered you make!
• Our outside market: USA,Argentina,Colombia,Brazil,Turkey,Spain, Russia,Singapore,Korea,Japan etc(Also cooperation with famours international groups:LG Group,Torrecid Group,3M,Yuber Group, Samsung Group and so on)
• Cooperation concept: Quality first,credit principal,reasonable price,customer uppermost