Melting point::1423
Density::3.18
Classification:Halide (Except Chloride)
Type:Calcium Bromide
Grade Standard:Industrial Grade
Appearance:white powder
Application:industry
Place of Origin:CN;HEB
Brand Name:SUOYI
Purity:99.99%
Other Names:CaF2
EINECS No.:232-188-7
MF:CaF2
CAS No.:7789-75-5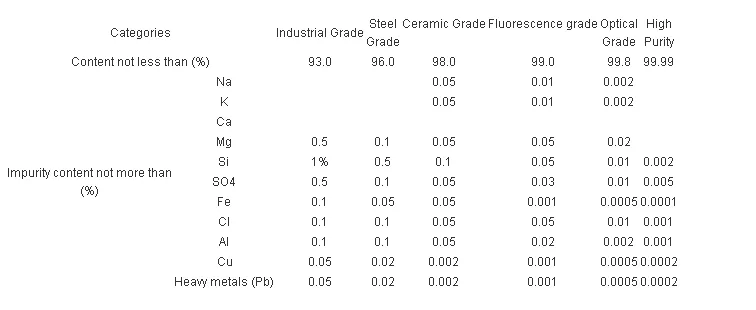 It can be customized according to customer requirements: size, crystalline, color, impurities, main content.
APPLICATION
organic chemistry reaction for dehydration or dehydrogenation catalysts. As flux in the steel industry. The production of ceramic, enamel, etc. used as component. Welding welding components and glass, the manufacture of glass fiber. Metallurgical flux. Nuclear reactor with base material. Optical crystal and lens. The main optical glass material. Optical fiber, medicine and other, carving crafts, manufacture organic, inorganic fluorine compounds. Can also be used in electronics, instrumentation, optical instrument manufacturing. Metallurgical flux. Very pure fluorspar used to produce special lenses.